Questions and Discussions
No questions yet
What do you want to know? Do you have a question about MobileConnect App?
Updates
Join automatic channel search without QR code.
VoiceOver functionality and audio channels improvement
Show all updates (6)
Similar Products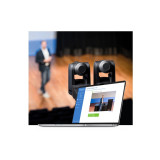 Avonic
CamDirector Teacher Tracker
The CamDirector Teacher Tracker from Avonic is a tracking solution.

Show all similar products
Was the content helpful to you?