Questions and Discussions
No questions yet
What do you want to know? Do you have a question about Pick-It M-HD?
Updates
New engine, faster image processing, ...
New software improvements and added functionalities
New camera hardware and software improvements
Show all updates (5)
Similar Products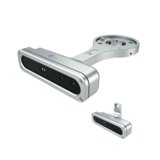 OnRobot
Eyes
The OnRobot Eyes is a flexible and adaptable 2.5D vision system offering fast programming and seamless gripper integration.

Show all similar products