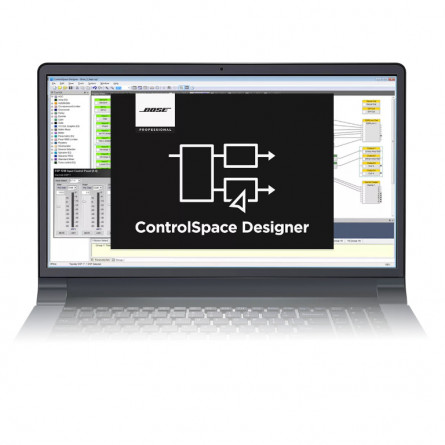 ---
Description
The ControlSpace Designer software by Bose offers open DSP architecture of engineered sound processors backed by a full library of signal processing functions, allowing it to create a fully customized signal processing design. Its network configuration capabilities allow it to quickly set up all compatible amplifiers and sound processors for operation on a larger ControlSpace control network. It is also capable of integrated Dante routing, configuration, and monitoring streamlines setup and control of optional Dante networked audio components.
Bose

ControlSpace Designer
Provides all the essential functionalities and tools to configure both the audio signal processing and network operation of Bose sound processors and amplifiers.
---
Recommendations: (totaling

4

users)
Ask your question
Propose
0
Questions and discussions
Ask your question

No questions yet
What do you want to know? Do you have a question about ControlSpace Designer?
Show all questions
5
Updates
Follow
Update: Brings Fix For App Crashing Issue Along With Some Changes

Bug fixes

Fixed defect in ControlSpace Designer 5.10.1 where the app could crash after selecting 'Rename Selection'after selecting a group of signal processing blocks.
Updated help file guidance on ...

Update: Fixes 5.10 Device Connectivity Issues That Affected Users In Europe

Improvements

General Issues

Fixed issue from 5.10 that affected customers in Europe. Customers using Windows configured for regions that utilize commas as decimal separators were unable to connect ...

Update: Adds Several New And Improved Features Along With A Few Changes

Improvements

This release includes the following changes:

The Realtime EQ functionality has been changed to allow the user to which version will be employed, Legacy or Realtime. Old projects opened...