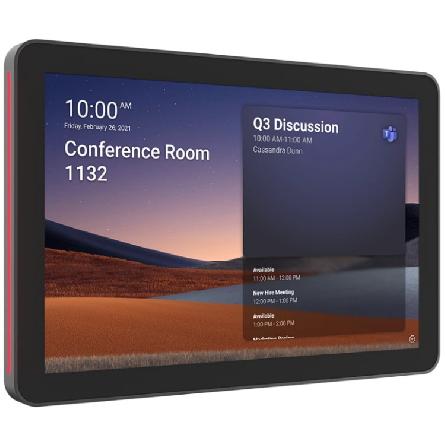 ---
Description
The Logitech Tap Scheduler enables workers to easily find and book a meeting room. It displays details via its 10.1-inch multi-touch screen that simplifies room reservations and makes sure a meeting space's availability is on schedule. The Tap Scheduler features built-in cable management that allows it to be installed neatly outside any room.
Logitech

Tap Scheduler
A screen panel that functions as a meeting space scheduling touch display.
---
Recommendations: (totaling

1

users)
Ask your question
Propose

6
Updates
Follow
Update: Via CollabOS: Zoom Rooms Android Controller Update

Improvements

Zoom Rooms

Updated to Zoom Rooms Android Controller v5.11
For more information, see Zoom's support website

Important notes

SERVICE PROVIDER APPLICATION VERSIONS

Update: Via CollabOS: Adds New Languages For Use With Service Providers

Improvements

Added 16 new languages for use with service providers

Choose from Croatian, Czech, Dutch, Filipino, Hungarian, Indonesian, Italian, Korean, Latvian, Lithuanian, Malay, Polish, Romanian,...

Update: CollabOS: Enhanced LNA Along With MS Teams Panels Update

Improvements

Local Network Access (LNA) has been enhanced to allow remote device Reboot, Shut down, and Report a bug.

For information on LNA, such as enabling features during or after device set...